Pointy Ends®
Ação , Pontaria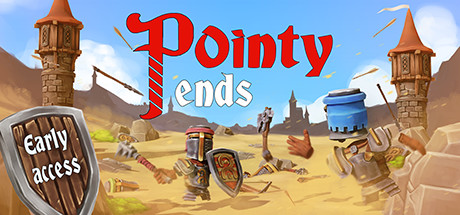 ---
Enter the biggest tournament of the realm where you'll engage in ranged combat with your fellow knights using all kinds of medieval weaponry. Combine skill and strategy to fight each other in epic fast-paced battles. Entertain the crowd and earn eternal glory. Have courage, aim, dodge, and beware of the pointy ends!
Action-packed multiplayer

Pointy Ends is an accessible fast-paced PVP battle with up to 4 players. Missing players? Not to worry, noble bots will fill in.
Single & Team Deathmatch

Go all out in free-for-all battles or join forces with a fellow knight in 2v2 battle mode.
Medieval weaponry

Battle with friends and foes using a variety of medieval weaponry like bow and arrow, crossbows, mace, slingshot or a battle ax.
Kingdoms Unite

Play across different headsets and controllers (Vive, Oculus, Index). Pointy Ends unites the realm of virtual reality in one cross-platform kingdom.
Get involved

Pointy Ends is released in early access which means your experience and feedback will give us the opportunity to bring the game to ever greater heights. Our current plan for the full release includes new weapons, modes, environments, and other features. But we want you to be involved, help us prioritize and let us know which direction you want Pointy Ends to go.